9 Tips for better business travel
---
I have been travelling a lot for business during the last three weeks: Boston for a conference, New York City for meetings, Florida for client work, and now St. Louis and Washington D.C. as part of my industry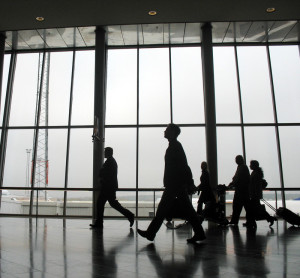 involvement and "giveback" work. A colleague suggested that I share my tips for managing business travel. Here goes:
You can work anywhere: To reduce flying time and to keep options open for client meetings, I will opt to do a multiple city flight, instead of round trips to be home for just one night. We can work anywhere, so why not work from a hotel room for a day? However, this year I missed Halloween with my grandkids which I regret. Will try to avoid that next year!
Travel logistics – I really dislike making flight reservations and sifting through the options. I rely on my administrative support staff to handle as much of my travel arrangements as possible. I know there are apps that you can use to track it all but I've yet to adopt them. Once everything is confirmed, having a one-page itinerary with all the info for the trip I need is an extremely helpful reference.
Planning for the weather – You might be dealing with a 30+ degree difference in the temperature when travelling to multiple cities. I watch my weather app a few days in advance and think about clothes that will work with the weather changes. Then figure out what kind of outerwear I need for the coolest temps.
Packing – There's no question that men have it easier than women when it comes to what clothes to pack. Men have almost a uniform that serves them for a few days – sports coat, slacks and a couple shirts or just one suit and different ties. Women need to create their own simple interchangeable uniform. Think basics and know that black is your friend (dress, skirt, slacks, jacket). You can always change it up with accessories. Then there are the shoes – go for comfort and 1-2 pairs that work with everything.
Paper files – Organizing your work is as important as packing the right clothes. Having most everything you need online or on your laptop means a lot less paper to carry these days. But make sure you have what you need either electronically or on paper to keep things moving while you are travelling.
Time zones – It's not that hard! Let your electronic devices do the adjustment for appointments so you don't screw up the times as you go from one time zone to the next.
Maintaining healthy habits – Business dinners and events that include rich appetizers, bigger dinners than you are used to, and more than one glass of wine can wreak havoc on your diet. Moderation is important. And if you don't want to make room in your suitcase for gym shoes and workout clothes for the gym at your hotel, just get out and go for a walk every day.
Downtime vs all work – I have learned over the years that I need a good novel to read once I finally shut down for the night. In a hotel room by yourself, it is too tempting to work right up until you brush your teeth and turn out the lights. But it can be hard to relax and fall asleep if there is no downtime between work and bed.
Get a good night's sleep – A hotel room that feels stuffy, a bed that is too hard or too soft. It can be hard to sleep well when travelling. I haven't figured this one out yet!
Wishing you all safe and productive travels when you are away on business. Would love to hear any tips you may have.
This piece was originally published on Sue Schade's blog, Health IT Connect. Follow her on Twitter at @sgschade.
RETURN TO CHIME MEDIA